Brilliant for a smaller wedding reception.
Perfect as a party Tent!
The Giant Bell Tent
Our Giant Bell Tent is an exciting alternative to traditional marquees and tipis. Ideal if you're looking for something different for your party tent or wedding.
Vaulted canvas ceilings and standing height right to the edge make our Giant Bell Tent spacious and practical.
Removable canvas sides make this marquee adaptable, allowing you to transform the structure to suit your event.
Open it up to create a free-flowing space with wonderful views to the outside. Add canvas sides to create a more private, sheltered atmosphere.
We have everything you need for wedding & party planning –
15 years of experience, friendly customer service and helpful tent layout plans. We can recommend great marquee venues and top notch local suppliers too.
Do get in touch with any questions or to talk through your plans. We're here to help create your beautiful wedding!
Use our helpful layout ideas to get a sense of the size and space you'll have inside this tent.
Size & Capacity
The 13m Giant bell Tent will comfortably accommodate:
Up to 200 guests standing
Up to 100 guests for a sit-down meal.
Up to 80 guests for a sit-down meal with a bar
Up to 60 guests for a sit-down meal with space for a dance floor
Up to 50 guests for a sit-down meal with space for a dance floor and a bar
Its also a brilliant space for a party – with space for a dance floor, stage, bar and chill out area.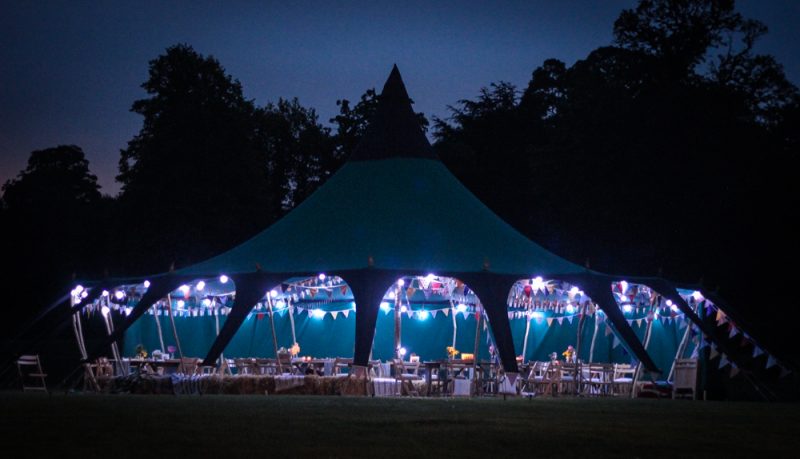 Pricing
Based on standard hire (Friday – Monday)
13m Giant Bell Tent + lighting = £1,265 plus delivery
13m Giant Bell Tent + flooring + lighting = £1,700 plus delivery
13m Giant Bell Tent + flooring + lighting + dance floor = £2,250 plus delivery
Extra days = £150/day
Hand-made wooden trestle tables (seat 6-8) = £25/each plus delivery
Wooden folding chairs = £3.85/each plus delivery